Benvenuti!
Welcome to the Tuscan Farm Shop. You can find us on the green in Burnham Market, Norfolk.
Come in, look around and try the produce from my farm at Montalcino in Tuscany: the wine and olive oil that we grow are simply delicious!
We also have a wonderful selection of cheeses, salami and prosciutto and other artisan specialities from around our area, the Val D'Orcia. We bring excellent coffee from Arezzo, which you can enjoy with a pastry or one of our home-made cakes.
We hope to bring you as much of the Tuscan way of living as we can; the food, the wine and some Tuscan vintage homeware. We will be serving a few simple Tuscan dishes to whet your appetite and show how easy it is to use our perfect produce in your own kitchen.
A presto,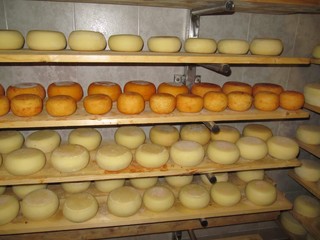 How we got here...
This is the story of a woman who had a dream.
She dreamed of Tuscany; the rolling hills, the olive groves, the vineyards, poppy strewn fields and cypress trees, chestnut woods teeming with wildlife, stone built houses steeped in history, vegetable gardens and wonderful food.
Then she bought a farm in Tuscany.
And in time she realised that the abundant produce of the farm needed to go further than to her kitchen table.
So she decided to open a farm shop... in Burnham Market.
Normal if you farm nearby in Norfolk... but a bit of a leap of faith if you farm at Montalcino in the Province of Siena.
Join us on the journey of bringing Tuscany to Norfolk.
News
Over the coming months we will be adding to this page to make our website bigger and better! You will be able to see more about what we do and even buy some of our products online. In the meantime you can keep up with what is happening at the Tuscan Farm Shop on our Instagram: https://www.instagram.com/tuscanfarmshop/.
Tuscany is nearer than you think!